FROM MARRAKECH: Day Tour to Essaouira – the blue and white fishing town
Essaouira is a laid-back fishing town with blue and white houses. It is a fortified city with a nice wiev of the Atlantic Ocean. It has an old medina, lots of art and handicrafts, fresh fish, nice beach, surfers and more. Go with us and experience this charming town.
From Marrakech
Duration: 1 day
Start/stop: At you hotel or riad
Transport: Landcruiser 4x4 car with aircondition
 Language: Driver/guide speak English and French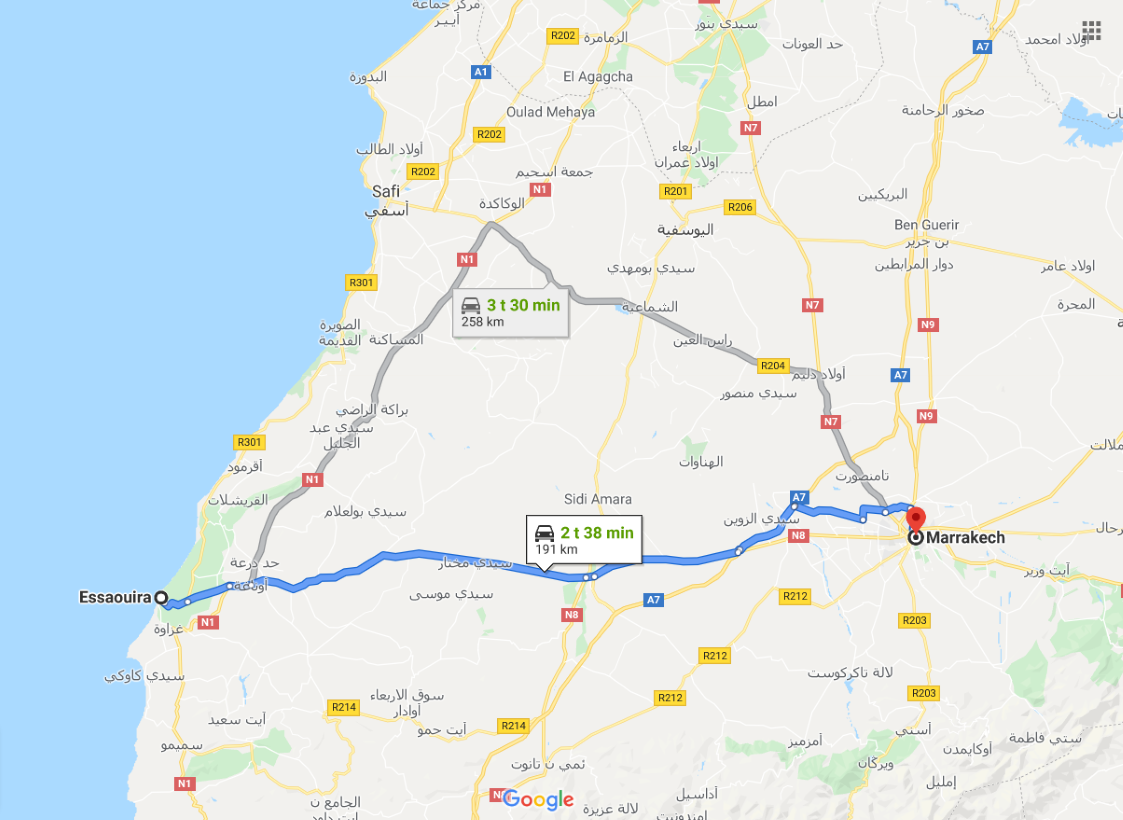 Marrakech - Essaouira - Marrakech
Escape the hustle and bustle of Marrakech and spend a day in the laid-back fish town of Essaouira.
The trip starts at 8 am in the morning, when we pick you up at your hotel. We drive most of the way on a good highway, and occasionally pass a few villages. As we get closer to Essaouira, we pass landscapes with argan trees and you might see goats climbing in the argan trees, eating argan nuts. If you wish, we can stop at an argan cooperative which is run by the local women. Here you can taste the argan oil and learn how they extract the oil from the argan nuts. The argan oil is referred to as «Moroccan gold», due to its many healthy benefits, both in cooking and for cosmetic use. The trees also help to prevent the desert from expanding.
Essaouira is a charming coastal town with white and blue houses and known for its fish market, strong wind, fine art and beautiful handicrafts. Explore this fortified city with its historic ramparts and at Skala du Kasbah you can enjoy an amazing view of the Atlantic ocean. The harbour is filled with blue fishing boats, boat-building activities, and seagulls competing with fishermen for the catch of the day. The medina is listed on UNESCO's World Heritage list and the souk is great for browsing artisan shops and galleries. Marquetry is a tradition in Essaouira and skilled craftsmen make marquetry which is among the best in the world.
Take a walk along the nice beach to relax and watch the surfers and kiters. Enjoy a meal of freshly caught fish and seafood by the harbour, or at a nice restaurant of your choice.
Early evening we head back to Marrakech.
Price information
The starting price is EUR 65 per person, when 2 persons are travel together on a private basis and transport in 4wd Landcruiser.
For bigger groups, please contact us for price.
Included:
Transport in 4wd Landcruiser
Guide/driver
Not included:
Booking and Payment: Click here
Other tours you might enjoy