Desert Candles AS is a Moroccan/Norwegian tour company.
Desert Candles offers individual and private trips, and some occasional arranged group trips, all over Morocco for all types of people and groups; single travelers, students, families, friends, companies, small groups and big groups.  Low budget trips, luxurious trips and anything in between.
We offer a selection of package trips for you to choose from. You are also welcome to make adjustments to these trips according to your own wishes. And we can create and tailor entire new trips according to your requests.
In our trips we use comfortable and air-conditioned 4x4 cars and minibuses, and our drivers and guides speak English and French.
We work with local establishments and partners in Morocco, as we think it is important to help create growth and values in the communities, and equally important that the guests are taken care of with experienced people who know the culture, traditions and the areas.
All our trips start and end within the Moroccan borders.
Partners/owners:
Abdellah Hajja is a nomad, born in the Sahara desert, where he lived for his first 6-7 years of his life. He then moved with his family to the nomadic village M'hamid. Abdellah has long experience with tourism. He started to work as a camel man, doing tourist trips in Sahara for more than 3 years for different companies. After that he worked as a tourist driver, doing trips all over Morocco, which helped him to know most Moroccan cities. He speaks several languages, such as Sahraoui, Moroccan, French, English, a great deal of Spanish and even some Norwegian.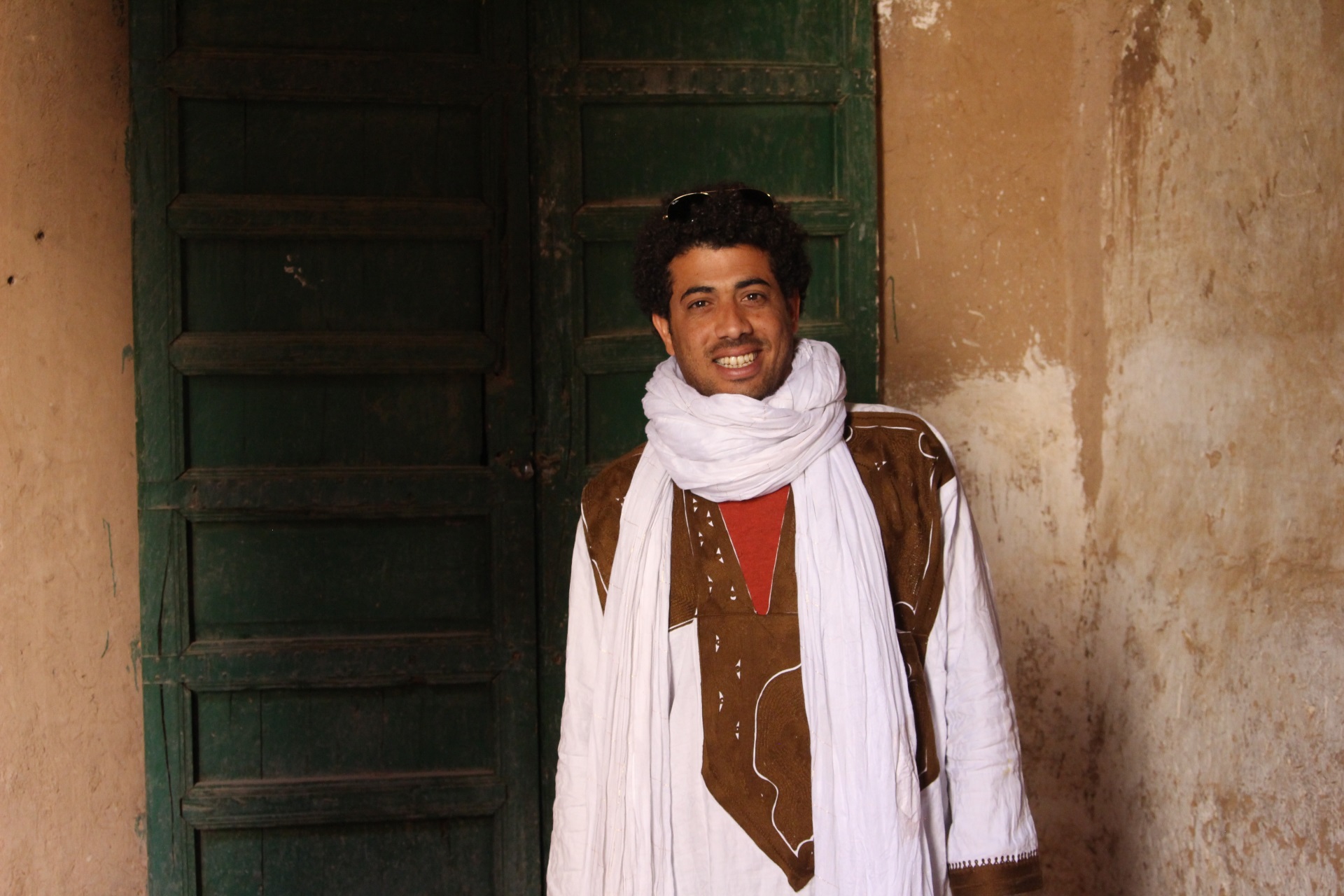 Solveig Gromholt is from Norway. Her work experience is mainly from the marine insurance business and this experience might be useful, as they say that camels are the ships of Sahara. She likes to travel, to organize trips and events and is keen on giving people good service and good experiences. She got in touch with the nomadic life and the Sahara people and cultures from her first trip to the desert in 2009.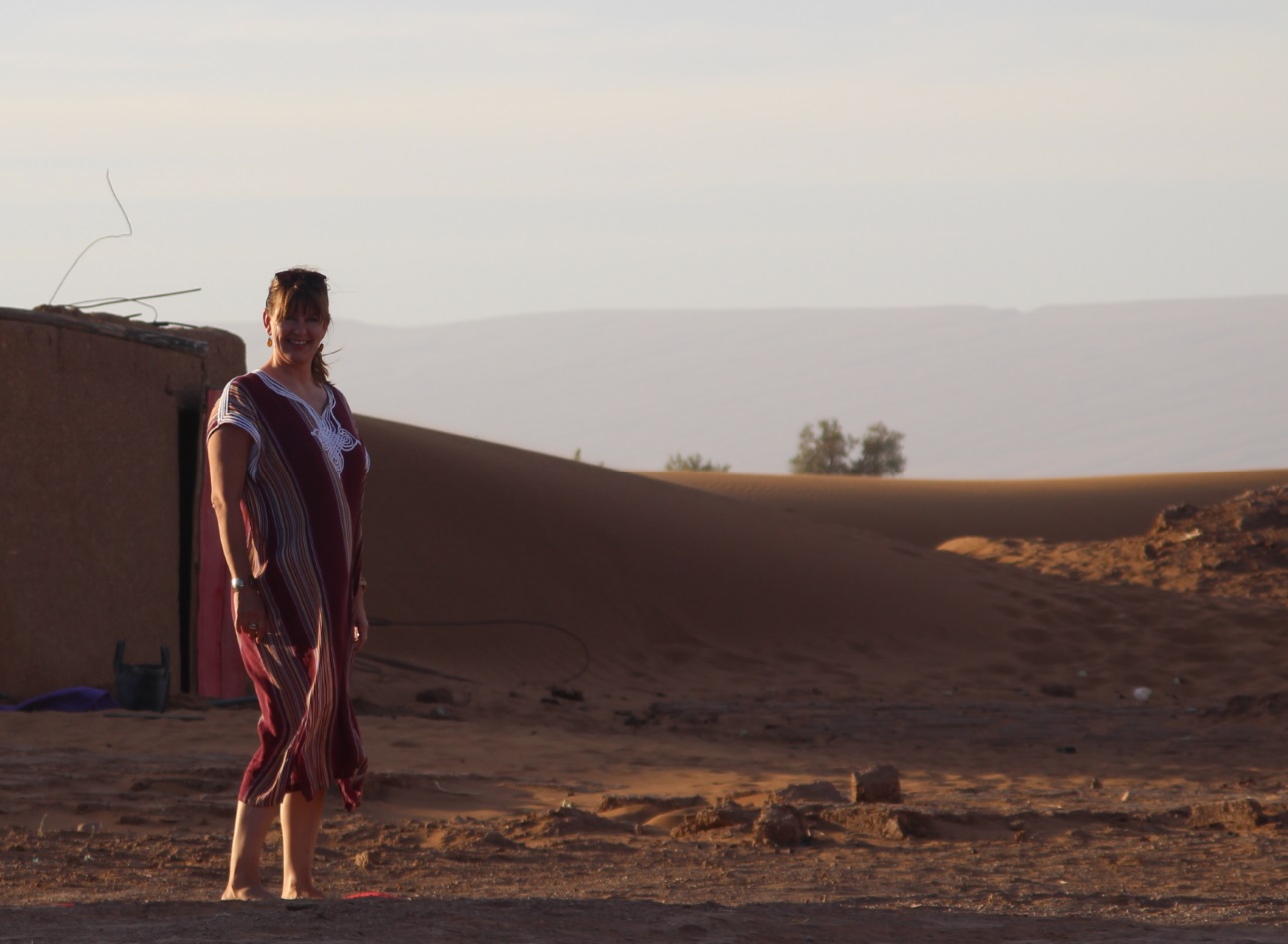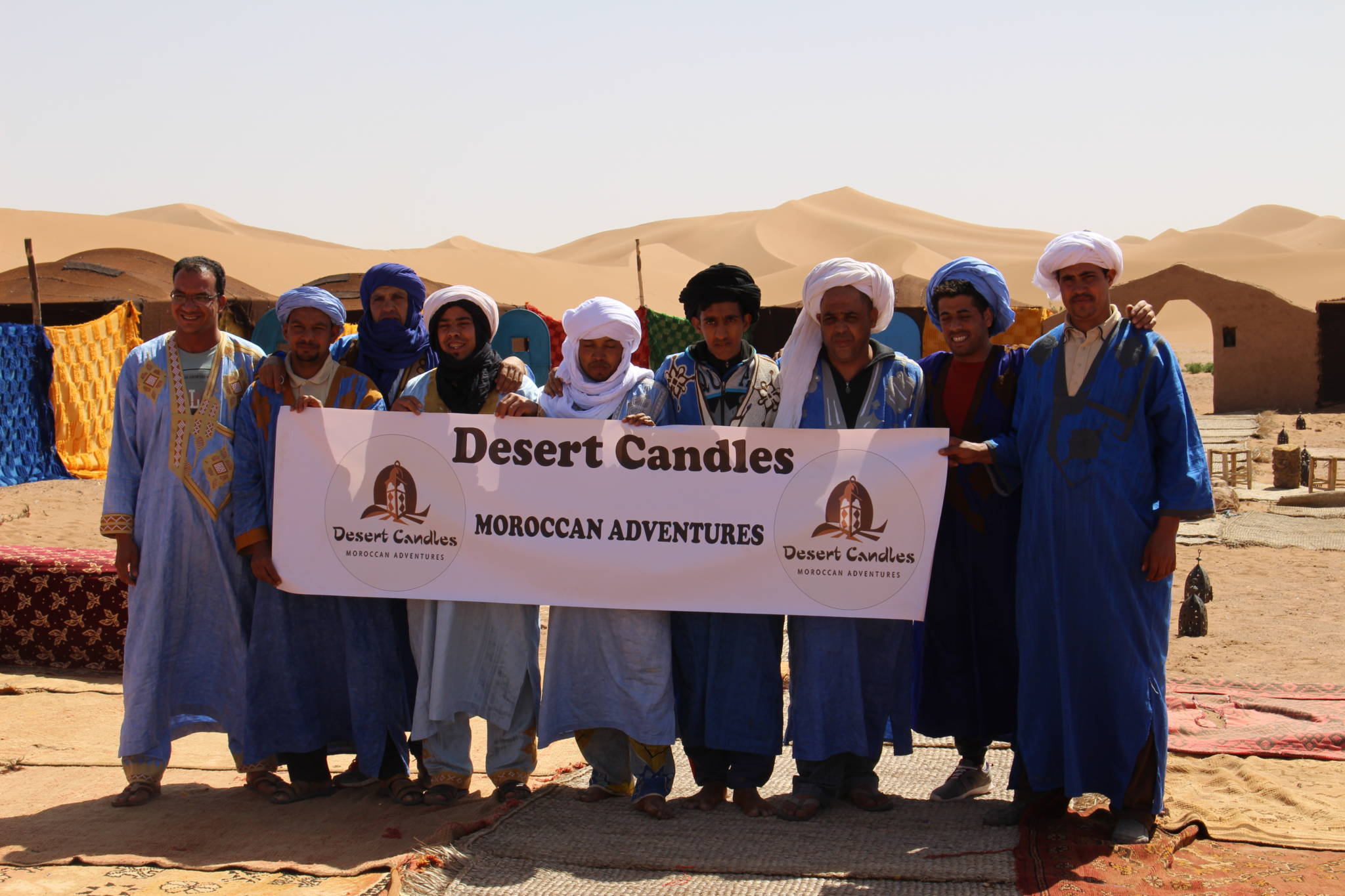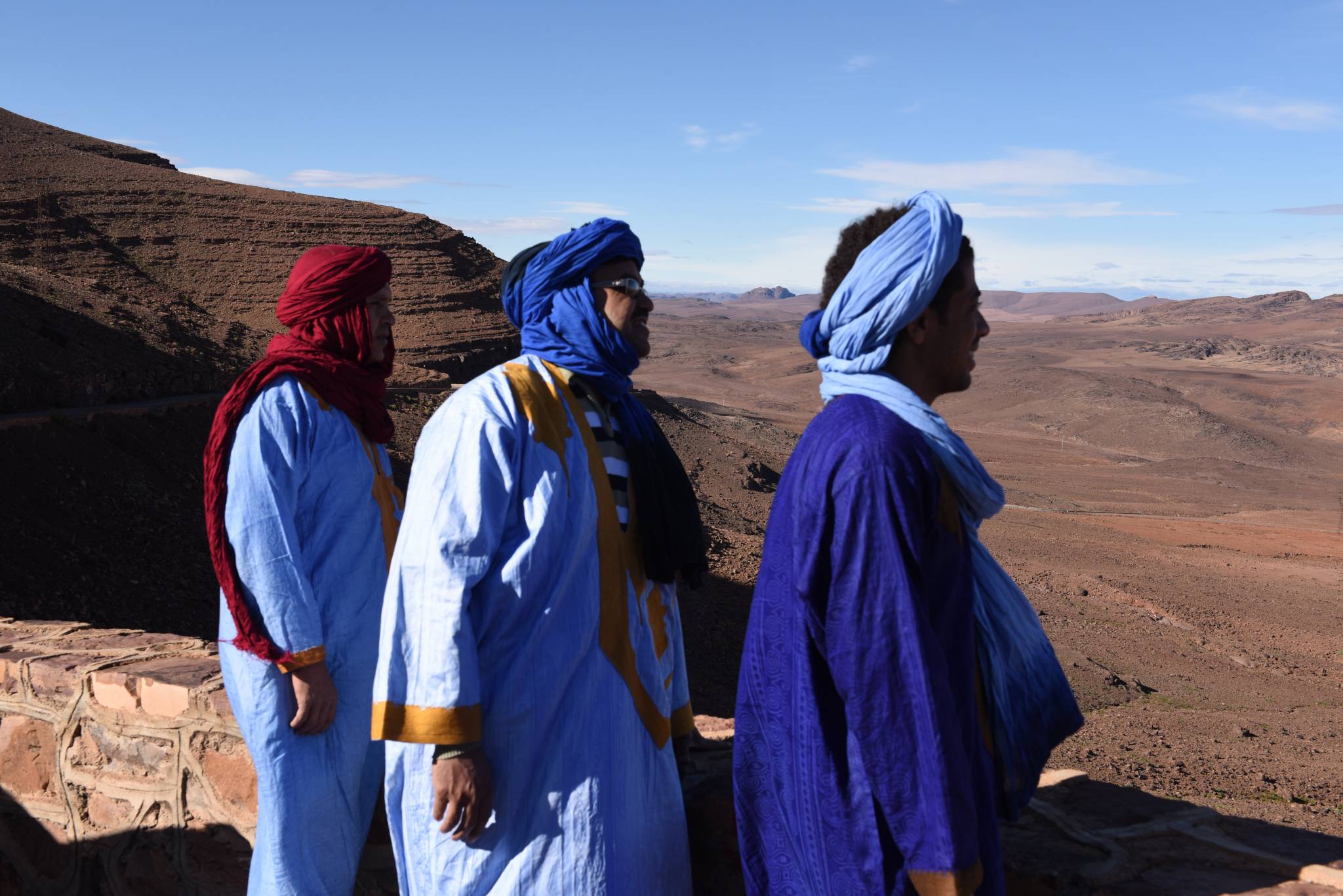 Desert Candles team consists of drivers, guides, camp chefs and caretakers. They come from different regions of Morocco and most of them are from Sahara. They play a big part in making your trip truly special and memorable.
Our drivers are experienced and know Morocco well. To drive a 4wd car through different features of the desert, and especially the sand dunes, takes both skills and experience. To know the area is essential. Their driving is good, safe and smooth, always looking after your safety and comfort. And such gentlemen, they gladly open your car door with a friendly smile.
Our guides speaks English, French, Spanish and Moroccan. They know the country's history well and they are happy to share stories and answer any questions you may have. Their friendliness and hospitality is deeply rooted in the culture and their sense of humour and relaxed appearance creates a nice atmosphere.
Our chefs and caretakers in the desert camp are nomads from Sahara. They are friendly and hospitable with an easy-going and calm personality. They serve excellent meals and take care of everything in the camp. At night they come together with the guests and play traditional nomad Music under the stars.
The partners in Desert Candles have been owners of a desert camp in Sahara since 2010 . The camp is used by many various travel companies and it always provides good service for its guests.
Desert Candles camp is located at the foot of the highest sand dune in the Erg Chegaga area, about 1,5 – 2 hours off-road driving from the nomadic village M'hamid, Zagora region.
It has one big restaurant tent and 17 sleeping tents with 4 comfortable beds in each. One house for showers and water toilets and one house for the kitchen.
As a guest, you will be served Moroccan tea and snacks, breakfast, lunch and 3 course dinner. In evening the nomads gather around the fire place in the middle of the camp and play the drums and sing traditional nomadic songs. You may also try sandboarding in the dunes.
The camp has solar panels which provide electricity for the most necessary things like the kitchen's fridge for storage of food and drinks, for lamps and chargers etc.
GPS coordinates: N29º51.116'W6º12.942′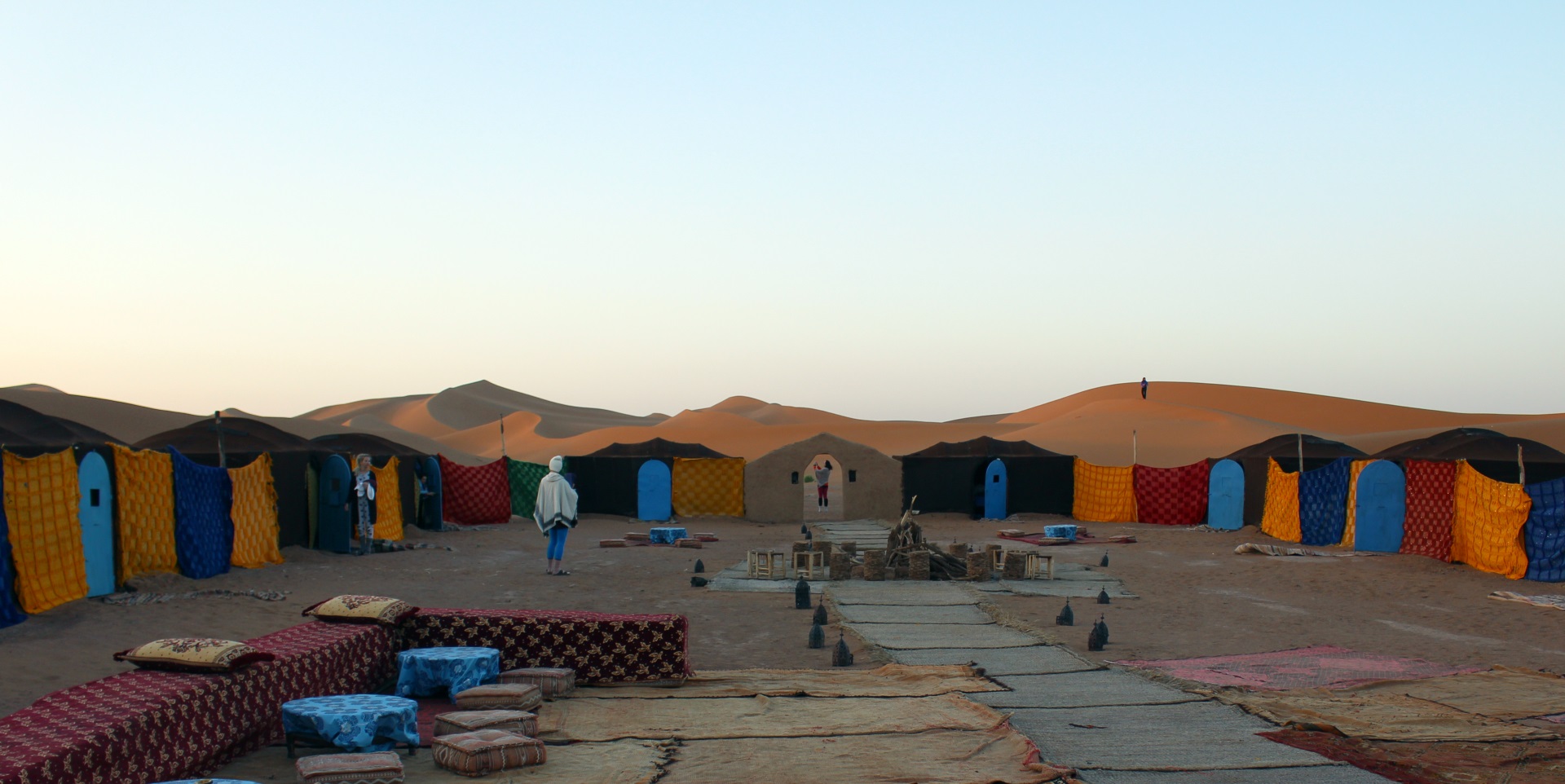 DESERT CANDLES PHILOSOPHY:
Desert Candles welcome all our guests to experience the warm and genuine hospitality of the nomad people and we want to make you feel as part of the nomadic family. We wish to share the nomadic culture and traditions in particular, but also to show other Moroccan culture in this contrasting country.
Our team in Morocco are knowledgeable and experienced and we all value respect, open-mindedness, laughter and happy moments. We pride ourselves in being reliable and safety-oriented.
All is, of course, served with several cups of tea, which is Morocco's national drink. Marhaba (= welcome).