FROM CASABLANCA: 14 days Round trip: Imperial cities – Kasbahs – Desert – Mountains – Coast
This is a round trip which will show you everything which is worth seeing. From historical and colorful cities, to high mountains and lush valleys, to kasbahs and oases, to desertlife, coast and sea. Morocco is a contrasting country with much culture and hospitality.
From Casablanca
Duration: 14 days
Start/stop: At your hotel or riad
Transport: Comfortable 4x4 car with aircondition
Language: Driver/guide speaks English and French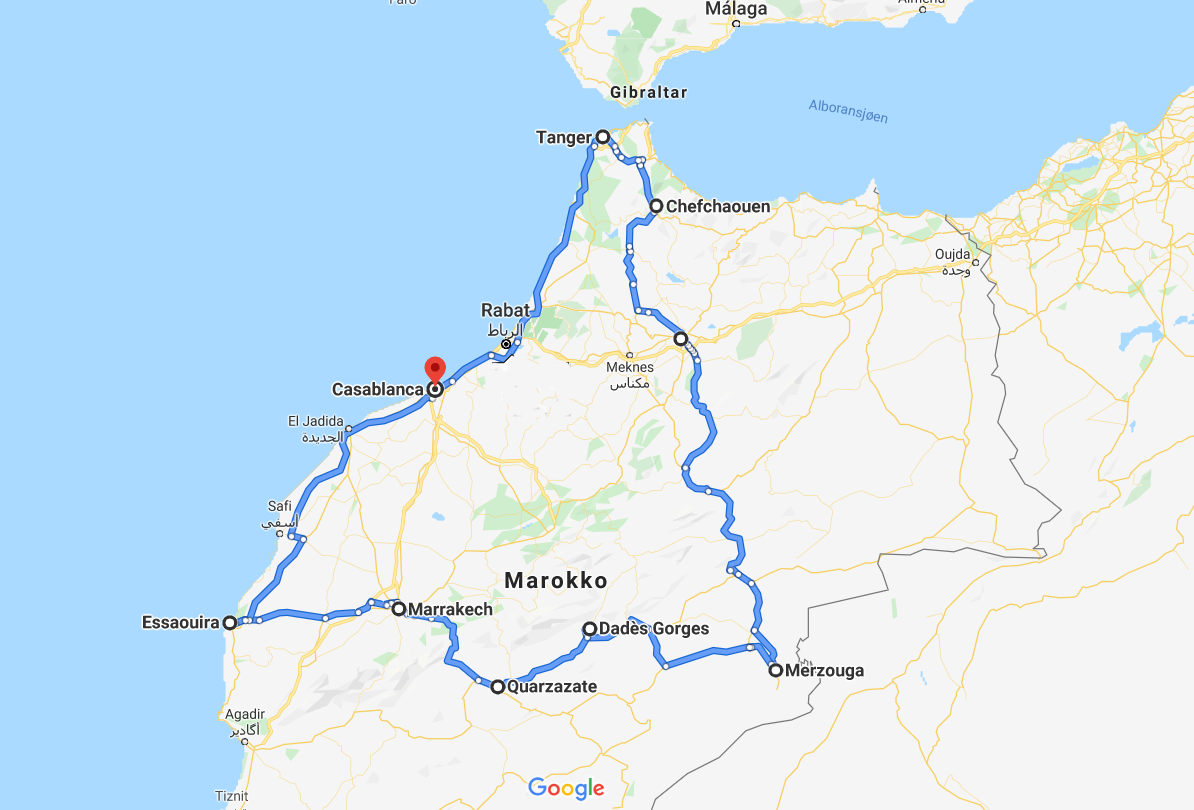 Day 1: Casablanca - Arrival at Mohammed V International Airport - Transfer to hotel
We meet you at the airport and bring you to your hotel in Casablanca for overnight.
Day 2: Casablanca - Rabat (97 km)
We make a tour in Casablanca, the commercial capital and the largest city of Morocco.
Among places to visit is Mohammed V Square, which is said to have the city's most impressive architecture, the majestic Hassan II Mosque, the Habous District, the central market, the residential districts Anfa and Ain Diab, which is famous for its gardens, beaches, terrace cafes and restaurants.
After the city tour, we continue to Rabat, Morocco's capital city today. A tour in Rabat includes visit to Mechouar (the place surrounding the Royal Palace), the majestic Mohammed V Mausoleum, the Hassan Tower and the Oudaya Kasbah overlooking the Atlantic Ocean through its fortified walls and with amazing views. The area is also housing many Moroccan artisan galleries.
We spend the night in Rabat.
Day 3: Rabat - Asilah - Tangier (249 km)
We drive along the beautiful coastal road to Tangier. On the way, we visit the fortified town Asilah, situated on the northwest tip of the Atlantic coast, about 30 km from Tangier. This coastal town is beautiful with whitewashed houses, blue doors and windows and many colorful murals. It is a popular seaside resort for tourists and it also hosts annual music and arts festival, including a mural-painting festival.
Tangier is a major city and an important port city in Morocco. It has many of the things that travellers love – a sense of exotic mystery, interesting history, beautiful vistas, unspoiled beaches, and unpleasant touts. The city is a mix of North Africa, Spain, Portugal and France. Tangier is located north in Morocco and separated from Spain by the 20 miles of the Strait of Gibraltar.
The night is spent in Tangier.
Day 4: Tangier - Chefchaouen (110 km)
We leave Tangier and drive through the green valleys in the Rif mountains until we reach the mountain village Chefchaouen. This town is one of the most beautiful towns in Morocco and famous for its blue-washed houses. It is popular for both tourists and Moroccans, escpecially in the hot summer months.
The medina is intriguing with its winding lanes and narrow alleys and home for the many souks. The shopping is good and you will find popular items native to the North and not found elsewhere in Morocco, such as arts, crafts, wollen items, embroidery and the popular goats cheese. Enjoy the local cuisine and relax in the square.
We spend the night in Chefchaouen.
Day 5: Chefcahouen - Fez (200 km)
We leave Chefcaouen and drive to Fez. The journey takes us over the high Rif mountains, through Ouezzane and further through green and fertile hillsides. Sleep in a riad in Fez.
Day 6: Explore Fez
This day is entirely for exploring Fez, the most ancient and holy of the imperial cities.
A cultural and historical tour will take you to the old medina through the narrow, labyrinthine paths with markets, souks and craftsmen. The medina is beleived to be the worlds biggest car-free urban zone and the goods are transported by mules, donkeys and charts.
After lunch we visit  Attarine and Bou Inania Madrasas (Islamic universities), the Nejjarine fountain, Moulay Idriss Mausoleum, Karaouine Mosque, the medina Fes Jdid, the famous leather tanneries and Merenid Tombs.
Overnight in Fez.
Day 7: Fez - Ifrane - Midelt - Merzouga (470 km)
We leave Fez in the morning and head towards Merzouga. The journey takes us through the Middle Atlas mountains, passing Ifrane, a well-known ski resort, also called the Switzerland of Morocco.  We continue to Azrou, famous for its Berber carpets, passing views of cedar and pine forest and high meadows filled with flowers in springtime. Lunch in Midelt before we continue to Erfoud via the Ziz valley and Errachidia. The landscape changes along the way and we now pass by palm trees, Berber villages and ksars.
We visit the small desert towns of Erfoud and Rissani, before we head to Merzouga and the Erg Chebbi sand dunes in Sahara. Camels are waiting to take you into the magical desert. From the highest sand dune, you can watch an amazing sunset and the night is spent in a Berber tent in a desert camp.
Day 8: Merzouga - Rissani - Erfoud - Todra Gorge - Dades Gorge (314 km)
Wake up early to watch the sunrise over the dunes before we return by camels to Merzouga.
We continue on our adventure trip through the High Atlas mountains to the spectacular canyon Todra Gorge. The massive canyon is breathtaking with gigantic rock walls that change colours all through the day. During the drive from Tinerhir to the Gorge there are thick passages of palmeries and Berber villages.
After visiting Todra Gorge, we continue on the snaking road down to Boumalne Dades.
We drive through the red Atlas mountains, Berber villages, red mud kasbahs and green vallyes with palm groves and pink rose gardens (in spring). The Dades Gorge is amazing with its finger-formed rock formations. The night is spent in Dades.
Day 9: Dades Gorge - Kelaa Mgouna - Rose valley - Skoura oasis - Ouarzazate (111 km)
After breakfast we head towards Ouarzazate. On the way we pass through Kelaat M'Gouna. This town is famous for its sea of pink Persian rose landscape in the spring. Each year in May they celebrate a Rose Festival. We continue through the valley of a thousands kasbahs and the beautiful oasis of Skoura with all its kasbahs situated among palm trees.
Arrive in Ouarzazate, the city which is nicknamed the door to the desert and the capital of the Ouarzazate Province. We spend the night in a hotel here.
Day 10: Ouarzazate - Kasbah Ait Ben Haddou - Atlas mountains - Marrakech (200 km)
After an early breakfast we start our way towards Marrakech. Our first stop is Ait Ben Haddou, a fortified town and listed on UNESCO World Heritage site. The ksars/kasbah, a group of earthen buildings surrounded by high walls, is a traditional pre-Saharan habitat.
Ait Ben Haddou is a striking example of the architecture of southern Morocco. It has served as location for many famous films, including «Lawrence of Arabia», «The Gladiator» and «Alexander».
We continue to Marrakech through the stunning Tizi-n-Tichka mountain pass (2,260 m). This drive provides a dramatic panoramic view of the Atlas mountains.
Overnight in Marrakech.
Day 11: Explore Marrakech
After a nice breakfast it is time for a 2 hours guided tour in the medina and the souk. The tour also includes a visit to the brilliant Bahia Palace and the beautiful Majorelle Gardens. At lunch time, the guide will find you a good place to eat.
After lunch you have free time to explore Marrakech on your own. You might want to enjoy a relaxing time in a Moroccan hammam/spa. You can spend the afternoon/evening in the famous and colorful square of Jemaa el Fna, among snake charmers, henna painting ladies, musicians, story tellers etc. In the evening the square is filled with food stalls, offering street food to locals and tourists.
Overnight in Marrakech.
Day 12: Marrakech - Essaouira (160 km)
After a good breakfast we drive to the coastal town of Essaouira.
Essaouira is a charming and relaxed town with white and blue houses. It is known for its fish market, strong wind popular for surfers, fine art and beautiful handicrafts.
Explore this fortified city with its historic ramparts and enjoy an amazing view of the Atlantic ocean. The harbour is filled with blue fishing boats, boat-building activities and seagulls competing with fishermen for the catch of the day.
The medina is listed on UNESCO's World Heritage list. It is great for browsing artisan shops and galleries and visit small cosy cafes.
Enjoy a meal of freshly caught fish and seafood by the harbour, or at a nice restaurant.
Day 13: Essaouira - Safi - El Jadida - Casablanca (270 km)
After breakfast we drive to Safi, wich is the main fishing port for Morocco's sardine industry. It is also famous for ceramics and pottery. We continue along the pittoresque coastal road to Oualidia. This is a tranquil fishing village and popular weekend resort for Marrakshis and Casablancis. We enjoy our lunch in a restaurant facing the saltwater lagoon fringed with golden sands. The fish is fresh and delicisous and the town is particularly famous for its oysters.
We continue to El Jadida, a former Portugese colony and fortified city listed on UNESCOs World Heritage site.
Arrive in Casablanca to spend the night.
Day 14: Casablanca - Transfer to airport
Transfer to Mohammed V International Airport for departure.
Price information
Contact us for prices
Included:
Transportation in 4×4 comfortable Landcruiser according to program
Guide/driver
13 nights in hotels, guesthouses and desert camp according to the program
All breakfasts
All dinners, except in Casblanca, Fez, Marrakech and Essaouira
Camel and sandboarding in Merzouga
Local guide in Fez according to program
Local guide in Marrakech according to program
Local guide in Kasbah Ait Ben Haddou
Transfers airport in Casablanca
Not included:
Lunches
Dinners in Casablanca, Fez, Marrakech and Essaouira
Drinks
Tip
Other tours you might enjoy