FROM MARRAKECH: 2 Days Desert Tour: Kasbah Ait Ben Haddou – Erg Lihoudi Dunes – Desert camp
If you want to experience the desert and you only have 2 days.
The trip  takes you across the highest pass in Atlas mountains. You visit Morocco's most famous kasbah and drive through the lush Draa valley. Visit the ceramic village Tamegroute, before heading to Erg Lihoudi dunes.
Go on a camel ride and try sandboarding. Sit around the camp fire in the evening together with the nomads and gaze at the most amazing starlit sky. Sleep in a nomadic tent.
From Marrakech
Duration: 2 days
Start/stop: At your hotel or riad
Transport: Landcruiser 4×4 car with aircondition
Language: Driver/guide speaks English and French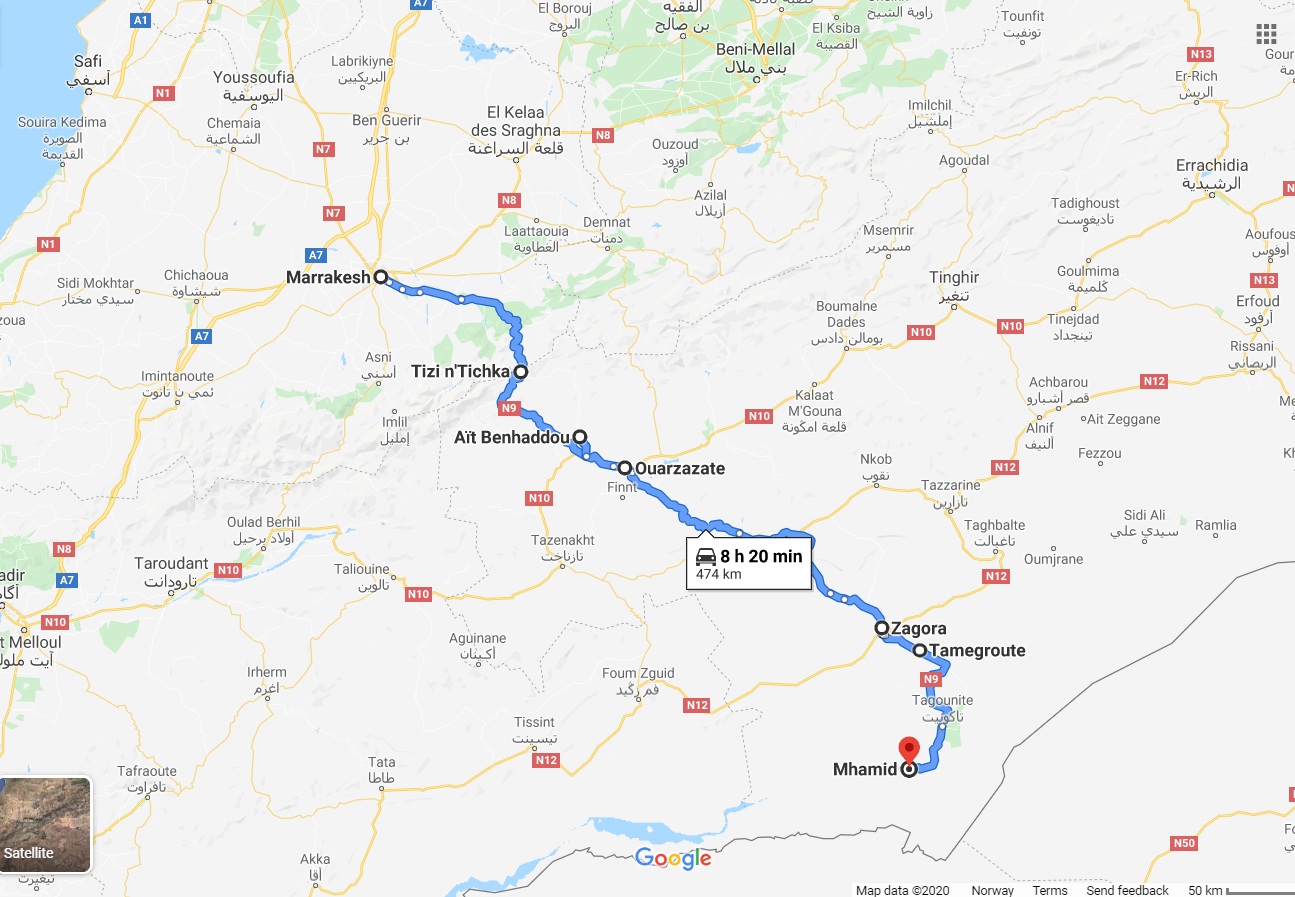 Day 1: Marrakech - Atlas mountains - Kasbah Ait Ben Haddou - Tamegroute - Erg Lihoudi dunes - Desert camp
The driver picks you up at 8 am at your hotel or riad in Marrakech.
We head to the Atlas mountains and cross the stunning Tiz n Tichka which is the highest mountain pass in Morocco. We pass Berber villages on the way and the scenery is amazing with mountain peaks, valleys and twisting roads.
You visit the magnificient Kasbah Ait Ben Haddou, where you have lunch. Kasbah Ait Ben Haddou is listed on UNESCO's World Heritage site and has been location for many famous films, such as «Lawrence of Arabia», «Jesus of Nazareth», «Babel» and «Prince of Persia» to name a few.
We continue via the city Ouarzazate, also referred to as the «Gate to Sahara». Further we drive through the lush Draa valley where Berber grow dates and other agricultural products. We take an off-road detour under the palms and pass the many ksars (villages) built from earth clay.
On the way we pass the town Zagora and continue further to visit the village Tamegroute which is famous for its green pottery, the Koran library and a religious school.
In the afternoon we reach M'hamid village, cross a desert piste and arrive at the dunes of Erg Lihoudi and our desert camp for the night.
A nice evening together with the local «blue men»  awaits and you enjoy dinner, an optional camel ride and sandboarding. Sleep in nomad tents, or if you prefer, you can sleep outside under the stars.
Day 2: Draa Valley - Atlas mountains - Marrakech
If you want to see the beautiful sunrise over the dunes, you can wake up early. After an early breakfast in the camp, we start the trip back to Marrakech via Draa valley and over the Atlas mountains. We stop for refreshments and lunch along the way.
Arrival in Marrakech early evening, approximately 18:00 hrs. The driver will drop you off at your hotel or riad.
Price information
The starting price is EUR 180 per person when 2 persons travel together on a private basis and transport in 4wd Landcruiser.
For bigger groups, please contact us for price.
Included:
Private transport in 4wd Landcruiser
Guide/driver
1 night in desert camp in Erg Lihoudi
1 dinner
1 breakfast
Not included:
Lunches
Camel ride
Drink
Tip
Booking & Payment: Click here
Other tours you might enjoy