FROM M'HAMID: 2 Days Desert Tour to Erg Chigaga – Desert Camp
In the oasis village of M'hamid El Ghizlane, the paved road ends and the desert begins. From here you need a 4×4 car or camel to get out into the desert.
We offer transport in 4×4 Landcruisers with skilled and professional drivers who know the desert. The trip from M'hamid to Erg Chigaga takes approx. 1.5 – 2 hours of off-road driving. Let the desert adventure begin!
Erg Chigaga is the largest dune area in Morocco. Here you can enjoy the Sahara's unique silence and sense of freedom, see a magical sunset and a starry sky you've never seen before. Stay in a desert camp and get to know the nomads and their culture. This is an unforgettable experience!
We have 2 departures by 4×4 car per day from M'hamid. Minimum 2 people.
From: M'hamid El Ghizlane
Duration: 2 days and 1 night
Start: 1st departure at 11:00. 2nd departure at 14:00.
Stop: Back in M'hamid at noon, day 2
Transport: Landcruiser 4×4 with air-condition
Language: Driver/guide speak English and French




CHOOSE BETWEEN 2 DEPARTURES PER DAY
Day 1 : 1st depature at 11:00: M'hamid - Erg Chigaga - Desert Candles Camp
The tour starts from our office in M'hamid El Ghizlane.
We drive off-road into the Sahara with a 4×4 Landcruiser and after about 1 hour we arrive at an oasis. Here you eat lunch in the shade of the palm trees and enjoy the peace and quiet that is unique to the desert. After lunch we continue through varied desert scenery until we arrive at our desert camp which is surrounded by beautiful sand dunes.
Or (depending on season and temperature); We drive directly to our desert camp in the Erg Chigaga dunes and have lunch here. The drive from M'hamid takes approx. 1.5 – 2 hours.
Day 1 : 2nd departure at 14:00: M'hamid - Erg Chigaga - Desert Candles Camp
We start from our office in M'hamid and drive off-road for approx. 1.5 – 2 hours until we arrive at our desert camp in Erg Chigaga.
Here and there along the way you will see free-roaming camels and donkeys eating whatever the desert has to offer.
Day 1 : In Erg Chigaga and the desert camp: Same program for both of the above departures
You are welcomed by the nomads with tea/coffee and some snacks and accommodated in your private tent.
Then it's time for a trip on the dromedary's back into the beautiful dunes. Enjoy an amazing sunset from the highest dune peak. It is a spectacular view of sand dunes as far as the eye can see. Perhaps you want to try a sandboard down the dunes? The sandboards are available in the camp at all times.
Back in the camp, it's time for a refreshing shower before a 3-course dinner is served in the restaurant tent. After dinner, the nomads play traditional music with drums around the campfire. You are welcome to sing or dance along. Enjoy an unforgettable starry sky that shines extra brightly out here. You can sleep in the nomad tent or outside, under the stars.
Day 2: Erg Chigaga - M'hamid
Maybe you want to get up early to catch a beautiful sunrise? Or just get up in time to enjoy breakfast at the desert camp.
After breakfast we start the trip back to the nomadic village in our 4×4 Landcruiser. Arrival at M'hamid at noon.
We hope you have many nice memories from the trip with you.
Price information
EUR 80 per person when 2 persons travel together

EUR 65 per person

when 3 persons travel together

EUR 52 per person when 4 persons or more travel together
For larger groups, please contact us for pricing.
NB: Feel free to stay additional days in the desert, for an extra fee.
Including:
Shared transport in 4×4 Landcruiser
Guide/driver
1 night in desert camp in Erg Chigaga
1 dinner
1 breakfast
Camel ride
Local music is played by the nomads around the campfire
Not included:
Booking and Payment: Click here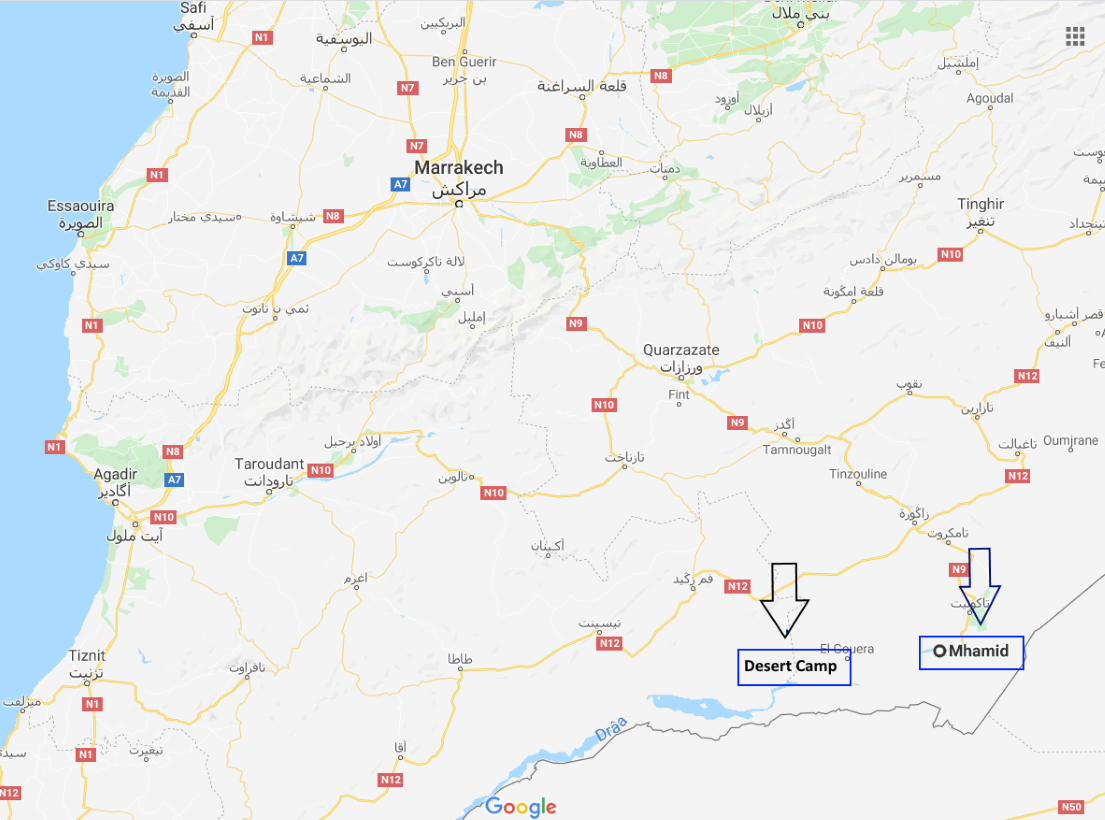 Other tours you might enjoy