This is a relaxing break from bustling Marrakech. In Ouzoud you can relax, swim in natural water pools, have a refreshing misty shower from the water falls, feed the monkeys and enjoy a fantastic view. Eat lunch in a restaurant overlooking the falls and enjoy a freshly squeezed orange juice.
From Marrakech
Duration: 1 day
Start: Morning at your hotel or riad
Stop: Evening at your hotel or riad
Transport: Landcruiser 4x4 car with aircondition
Language: Driver/guide speak English and French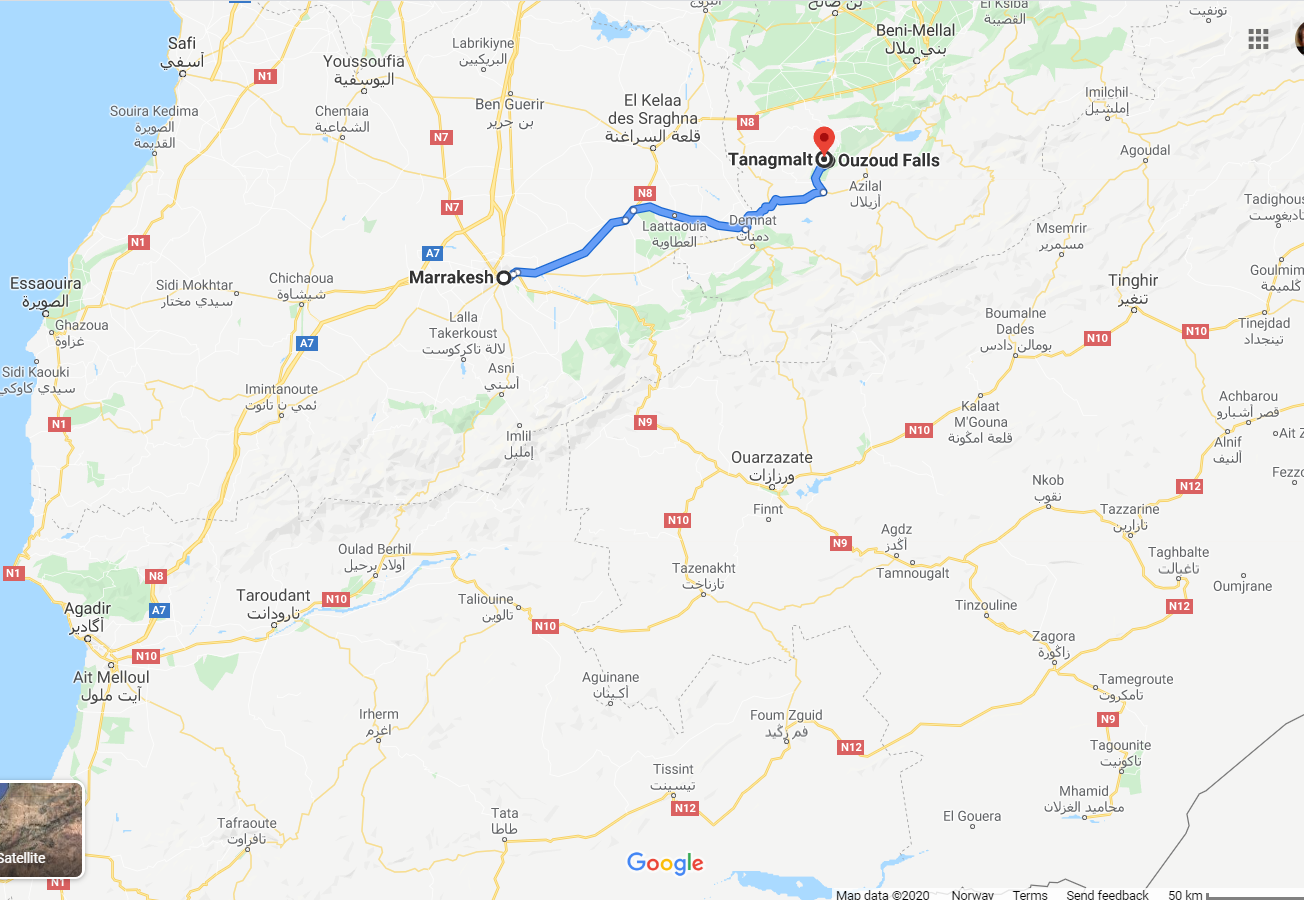 Marrakech - Atlas Mountains - Ouzoud waterfalls - Marrakech
The driver picks you up 10 am at your hotel or riad.
We drive into the Atlas mountains and arrive to the Ouzoud Falls after about 2,5 – 3 hours.
Ouzoud Falls is located near the village Tanagmalt and is the second tallest waterfall in Africa (330 feet – 110 meters). The area is a popular getaway from the busy city of Marrakech and provides a relaxing and peaceful experience.
At the entrance, local guides offer guided tours and inform you of the itinerary and the fees (own expense).
The hike to the natural pools is clear and easy in most of the parts and provides a beautiful view. Be sure to use proper footwear and clothes that can get wet.
First stage is a short walk under a shady path of olive trees and passing a few scattered pools of water. Then continue up the mountain to a larger waterfall with lots of time for sunbathing, swimming and relaxing. Here the adventurous swimmers will find many spots to climb and jump into the pool.
Continue to the famous Ouzod waterfall, which is hidden until the second you reach the point overlooking it. Keep your camera ready to take some great photos of this impressive waterfalls.
From here you can reach the entrance to the boats which take you on a short voyage under the waterfall splash and gives you a misty shower and a gorgeous view of the village, mountains, and waterfall.
Not far from here, you can find the wild monkeys. Some locals are selling peanuts if you wish to feed the monkeys. Please be aware that some tip is expected after finishing the feeding.
Enjoy lunch in a restaurant overlooking the falls. At several places along the tour you also have the possibiltiy to buy fresh orange juice, made from oranges right off the tree.
We head back to Marrakech and drop you off at your hotel or riad early evening.
Price information
The starting price is EUR 70 per person when 2 persons travel together on a private basis and transport in 4wd Landcruiser.
For bigger groups, please contact us for price.
Included:
Private transport in 4wd Landcruiser
Guide/driver
Not included:
Booking & Payment: Click here
Practical information
Be sure to use proper footwear and clothes that can get wet.
Other tours you might enjoy