FROM OUARZAZATE: Day trip: Kasbahs – Oases – Rose valleys – Dades Gorges
From Ouarzazate
Start: Morning at your hotel or riad
Stop: Early evening at your hotel or riad
Duration: 1 day
Transport: Landcruiser 4×4 with aircondition
Language: Driver/guide speaks English and French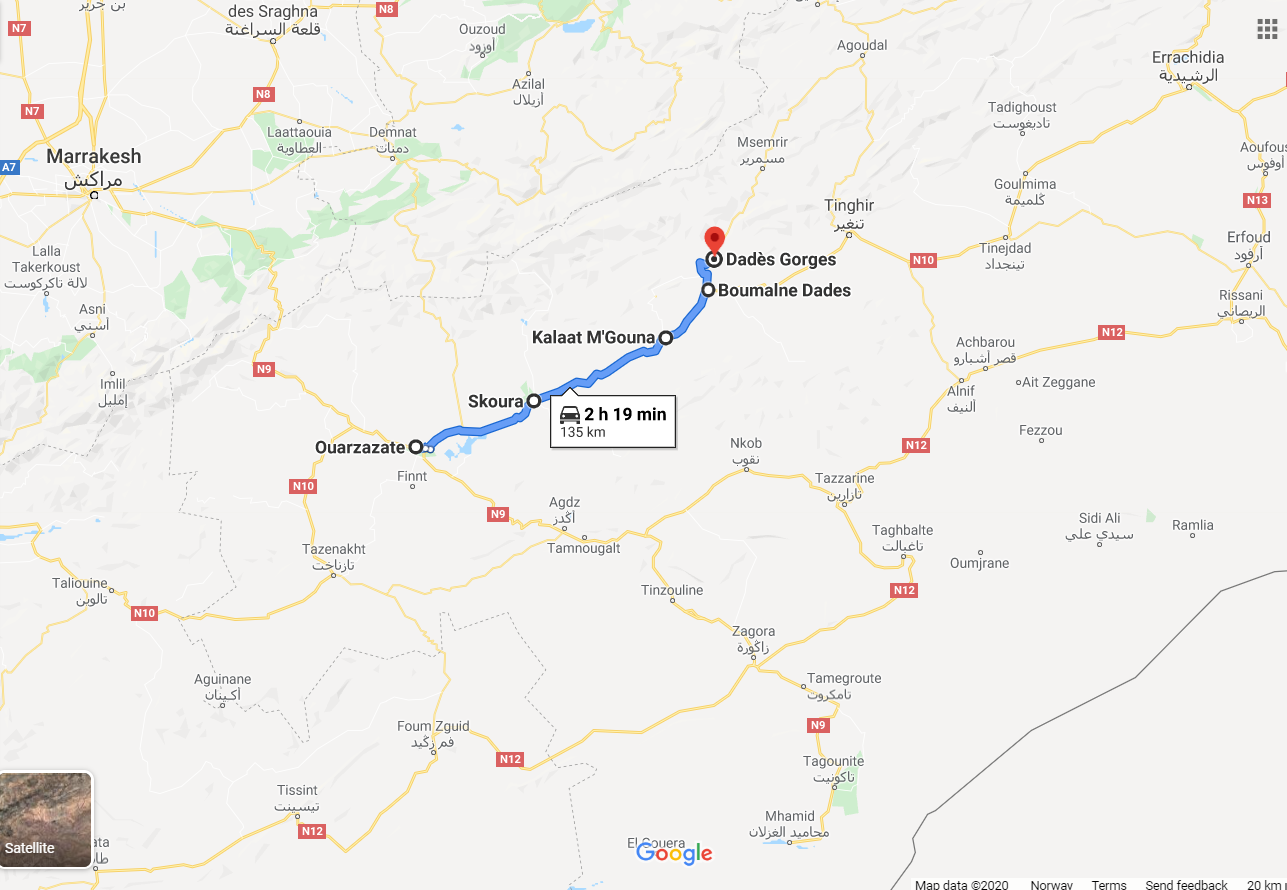 Ouarzazate - Skoura oasis - Kasbahs - Valley of roses - Dades Gorge - Boumalne Dades - Ouarzazate
Departure at 9 am from Ouarzazate when driver picks you up at your  hotel or riad.
On the way we pass the beautiful oasis of Skoura and see all the kasbahs situated among the palm trees.
Back on the main road we continue through the valley of the roses. At the village Kela'a Mgouna we stop for a berber tea and refreshments. This town is famous for its sea of pink Persian rose landscape and each year they celebrate their harvest with a joyous and fragrant Rose Festival, known locally as the Fête des Roses.
We continue the tour along the valley of thousands kasbahs. The landscape is scenic, through the red Atlas mountains, berber villages and green vallyes with palm groves and pink rose gardens. Each city and village has its red colored kasbah or ksar and a mosque. Colorful carpets are hanging from the windows.
We reach Dades Gorges for lunch, followed by a walk along the riverside. The Dades Gorge has amazing finger-formed stones and is separating the Atlas mountain from the Anti Atlas.
In the afternoon we drive through the Boumalne Dades valley and arrive back in Ouarzazate in the early evening.
Price information
The starting price is EUR 60 per person when 2 persons travel together on a private basis and transport in 4wd Landcruiser.
For bigger groups, please contact us for price.
Included:
Private transport in 4wd Landruiser
Guide/driver
Not included:
Booking & Payment: Click here
Other tours you might enjoy